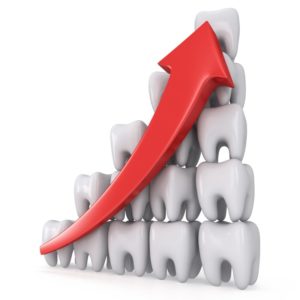 The holiday season is fast approaching. Before you know it, 2019 will be over and 2020 will begin, which means that now is a great time to reflect on how well your practice is performing and how it can improve. However, an accurate evaluation of your practice's success can be difficult without the hard facts.
If you use any sort of modern software on a daily basis in your dental office, then chances are exceptionally high that you have tons of data already gathered from throughout the year. You just need to know how to organize and analyze it and then use it to make your practice better. Luckily, Dental Support Specialties offers a helping hand with patient reactivation and chart auditing to ease your team's already full workload. In this post, you'll learn more about this service and how it can benefit your practice.
What data are collected throughout the year?
These days, basically all dental software keeps track of many kinds of details for each patient, which can easily become overwhelming when you consider an entire year's worth of appointments that you've had in your schedule. However, Dental Support Specialties has the experience in gathering the right data and giving you a more digestible look at your practice's performance.
How do we sort the data collected?
Although you could ask your team members to sift through the 2019's stats for you, their primary focus should be on assisting your patients in the office. After all, you don't want customer service to suffer. Our team can work within your chosen software and compile information that is directly linked to patient reactivation, including canceled appointments, undone treatment, no-shows, insurance benefits, and more. We know how to organize this information to provide a more accurate picture of your patient base.
What do we do with the data?
At Dental Support Specialties, we examine every patient's charts to determine how many patients are actually active. This means that we identify those who have not completed treatment, have canceled their appointments without rescheduling, or have not come to the office at all. Then, we find out why. Analyzing this information can give us ideas for making your practice more successful.
How can the data help you grow your practice?
Once you know how many and why individual patients didn't show up, canceled, or didn't schedule future appointments to be treated, you can take proactive measures to change for the better. For example, our team can use this information to contact inactive patients and schedule treatment, connect and communicate with your patient base, increase your practice's productivity, and verify insurance information. Each of these tasks is an opportunity to make more money.
Ultimately, the goal of chart auditing and patient reactivation is to get more patients in the treatment chair and to bring more money into the practice. This important process can help you recover thousands of dollars, but you don't have to do it alone. Dental Support Specialties can work with you every step of the way, helping you know where and how you can strengthen your practice in 2020.
About Dental Support Specialties
For over a decade, Dental support Specialties has helped dental practices with chart auditing. They are familiar with many software packages and offer start-to-finish services. From sorting the data to making outreach calls to inactive patients, they can help your practice become more productive in the coming year. If you have questions about chart auditing and patient reactivation, you can contact Dental Support Specialties by calling (330) 639-1333 or clicking here.