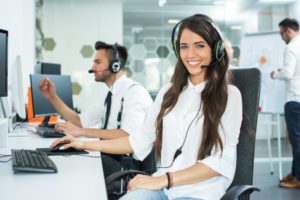 The holiday season is almost here! You know what that means—busy schedules filled with shopping and fun get-togethers with family and friends. Maybe you even plan on taking time away to travel with your loved ones. But while you and your team members are out of the office, are you going to miss phone calls from patients trying to schedule appointments? Could you be losing opportunities to add to your practice's bottom line? Although you and your team members certainly deserve to take some time off from work, your communication with your patients shouldn't suffer. Dental Support Specialties can offer dental scheduling that never takes vacation, helping you keep your practice busy and thriving.
Answering Machine Problems
Often during this time of year, while your team is away from work, so are your patients. Many take this chance to call your practice in the hopes of getting a convenient appointment scheduled while they have some free time. If you have your practice's phone set to an answering machine, your team may not get the message until much later—that is, if the patient chooses to leave a message at all.
While your team members are enjoying celebrations, Dental Support Specialties can make sure that calls to your practice aren't met with an impersonal machine. According to a study highlighted in the Harvard Business Review, 74 percent of people who have a bad phone support experience with a business are likely to choose another business. Although many patients can remain loyal to your practice even after one failed phone call, consistently missing their calls can leave a negative impression on them and perhaps drive them to another practice. With us, your patients can successfully schedule their appointment by talking to a real person.
The Value of a Dental Answering Service
By and large, customers still prefer to speak to a human being than dealing with a machine, especially when it comes to making important decisions such as healthcare visits. Even if you aren't meeting with patients on certain days, it can be very beneficial to have someone answering phone calls made to the practice. That way, your patients can have the personal connection while making those scheduling decisions. This in turn fills up your schedule and ensures that you and your team stay busy when you return from your holiday vacation.
In addition, when you use a dental answering service with real people, your patients feel that you and your team are accessible to them, that they can reach you when they need you. It gives them comfort and assurance, which helps them want to return to you in the future.
Ultimately, you don't want your holiday break to interfere with your practice's success. By hiring Dental Support Specialties to cover times when your team members will be unavailable, you can keep your basic line of communication open with your patients and your scheduling running smoothly.
About Dental Support Specialties
Dental Support Specialties is a unique company that provides complete phone answering services for dental practices. They don't just take messages—they can schedule appointments, work within your software, make confirmation calls, and provide backup for times when your team members are out on vacation, out to lunch, or out on sick leave. To receive your complimentary support analysis with them, you can click here. If you have other questions, you can contact Dental Support Specialties by clicking here.