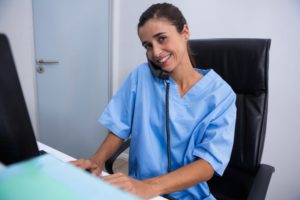 Every day, you try to keep your schedule filled with as many patients as you can while still maintaining a high level of quality in your services. You want to do your best to avoid gaps in order to make more money. How can you make sure that this ideal situation happens more often than not? It's simple. You and your team members need to follow up with your in active patients, confirm appointment times, and make sure that you're optimizing every chance to bring them in for dental work. In the information below, you'll learn four ways that following up with patients can benefit your dental scheduling and your practice in general.
Fill Hygiene Schedule
For many practices, the routine checkup and cleaning appointments are a major source of the business's revenue. When cancellations occur, these gaps in the schedule can hurt your business. On a regular basis, you can reach out to patients who have canceled or who are overdue for their checkup and cleaning in order to keep your hygienists busy with patients. Although this research and this outreach can be time-consuming, it can help your practice maximize opportunities to help people and make more money.
Reactivate Inactive Patients
Some patients have treatment plans in place, but they have failed to complete the dental work in the office. It's important to follow up with these patients to see what is keeping them from proceeding. Are they hesitant for some reason? Are they worried about their dental insurance coverage? By talking to these patients on the phone, you can get to the bottom of the delay and help your patients finally get the work they need and want.
Confirm Appointments for Higher Attendance
People are busy and can forget about their dental appointment. That's why it's always helpful to have a friendly reminder. Following up and confirming visits with patients on the phone beforehand can significantly reduce the number of no-shows. The more patients you see every day, the more revenue your practice can make.
Form Better Relationships with Patients
When your patients get personal attention, they feel special and cared for. This forms a positive impression, which can later develop into a trusting relationship. As a result, they're more likely to return to your practice for dental treatment and become a loyal patient. Follow-up calls are a great way to form these relationships.
If these follow-up tasks seem overwhelming, you don't have to worry. You can turn to a dental answering service, like Dental Support Specialties, and delegate these calls to hardworking people who can take this stress from your shoulders. By taking advantage of the follow up, you can make sure that no patients fall through the cracks and that your schedule stays full and financially healthy.
About Dental Support Specialties
In 2007, former office manager in the dental field Mary Beth started Dental Support Specialties, a team of dental administrators who are able to remotely perform follow-up calls for offices. By taking care of these services, your own in-house dental team can focus on helping patients in the practice and making sure that everyone has a positive experience from beginning to end. To arrange for your complimentary support analysis, click here.