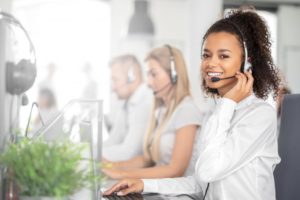 Your practice is performing well, but there is still room for growth and improvement. You find that you miss several calls every day while your go-to front desk team member is out for lunch. How can you make sure that your practice can keep running smoothly and have a robust schedule? Whether you need help with dental scheduling during staff vacations or on a more consistent basis during busy times of the day, Dental Support Specialties can meet your needs and make sure that your practice is connecting with and serving patients in the best way possible.
Scheduling Appointments
Did you know that many other calling service companies simply take messages? If anything, this just adds to your team members' workload and can hurt their overall productivity. You might as well just have an automated answering machine. In contrast, Dental Support Specialties will actually make appointments with patients over the phone.
Catching More Calls
No matter how talented your front desk staff members are or how much they try to multitask, there are times when they simply aren't available to handle all their scheduling and phone duties. After all, they have to take a break for lunch at some point! This time is important to cover because many potential patients can try to reach out to schedule an appointment during their lunch break too. Without a team member there to field those calls, you could lose business and have more empty appointment times. That's where Dental Support Specialties comes in. Our dental answering service can ensure that no patients fall through the cracks.
Building Positive Relationships with Patients
In many cases, your patients' first contact with your practice is over the phone. It's an opportunity to make a powerful, positive first impression on those who call. If your team isn't available or is trying to balance helping in-person patients and over the phone, your customer service can suffer as a result. Dental Support Specialties' friendly, professional team members can maintain the high standard of excellence you expect from your own team members. By choosing Dental Support Specialties to help with scheduling, you ensure that patients hang up the phone with their needs met and with a smile on their faces.
Filling Open Hygiene Spots in the Schedule
In addition to handling incoming calls, Dental Support Specialties can actively work to increase your practice's productivity. Many practices rely heavily on routine checkups and cleanings for revenue, and gaps in your hygiene schedule can mean lost opportunities for profit. We go beyond passively answering phones and can guide new and existing patients to these routine appointments, which at minimum keeps your hygiene schedule full but may also lead to follow-up visits or additional treatment in the future.
Ultimately, having a healthy schedule will help ensure your practice's success. Regardless of the circumstances leading to your need for additional scheduling support, we can improve your productivity and therefore your practice's profitability. You can take advantage of a complimentary support analysis and see how we can help your business flourish!
About Dental Support Specialties
Dental Support Specialties' team members have extensive backgrounds in dentistry and understand how to make a practice run more easily. Our services include scheduling and answering phone calls, in addition to handling billing and insurance issues. Mary Beth Bajornas, our founder and director, offers a free support analysis to see the unique ways that Dental Support Specialties can help your practice. To contact her, you can call (330) 639-1333 or click here.