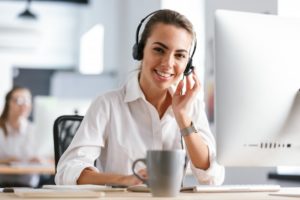 Although your practice is doing fairly well financially, you want to improve. Have you thought about being more efficient in your office's daily functions? Between answering the phones, filing dental insurance claims, and making reminder calls, your front desk team members contribute to the success of your practice, and Dental Support Specialties can help make your practice run more smoothly and maximize on your potential revenue. In this post, you'll learn three reasons why you should take advantage of our services.
Extensive Background in Dentistry and Front-Office Administration
When you hire someone to join your team, you don't want to need train them from square one. The professionals on our team at Dental Support Specialties are familiar with how dental practices function. In fact, our team combined has about 400 years of dental office experience! Basically, all you would need to do is explain any protocols that are unique to your practice. All 30 of our team members have front-office administration expertise that we can use to benefit your practice.
Wide Range of Services
At Dental Support Specialties, we offer a huge menu of services—all of which are focused on helping your practice run more smoothly. Our team can answering incoming calls, schedule appointments, and actively work to fill your schedule and increase productivity. In addition, we can handle insurance and billing issues and interface with both the patients and the insurance companies. If your own team doesn't have experience dealing with accounts receivable recovery, we can handle these problems and make sure that no revenue falls through the cracks.
We can even help you with special projects, including reactivation, chart auditing, and large recovery projects. To meet your unique needs, we can customize our services so that you get exactly the help you need to maximize efficiency and revenue.
Answering Phones and Scheduling Appointments
Sometimes, your front desk staff just aren't available to answer the phones. Perhaps they are out on vacation, on a lunch break, or overwhelmed with the volume of calls during busy times of the day. In any case, our experienced team can lend a helping hand, answer calls, and make sure that your potential patients are well cared for. Unlike other phone answering service companies, we don't just take messages that your team has to deal with when they can. We can actually add patients to the schedule, helping your own team's productivity and your practice's success.
Our goal is to help your practice perform to its fullest potential, serve as many patients as possible, and help you build positive connections with your patients. As a result, your practice can continue to grow and prosper. Find out how we can contribute to your practice's success through a complimentary support analysis!
About Dental Support Specialties
Dental Support Specialties has assembled a team of experienced dental administrators that can handle nearly any support task that you need for your dental office. Whether just for a short period of time or on a consistent basis, we can help your team and practice function more smoothly and increase productivity. For your free support analysis, call (330) 639-1333 or click here.