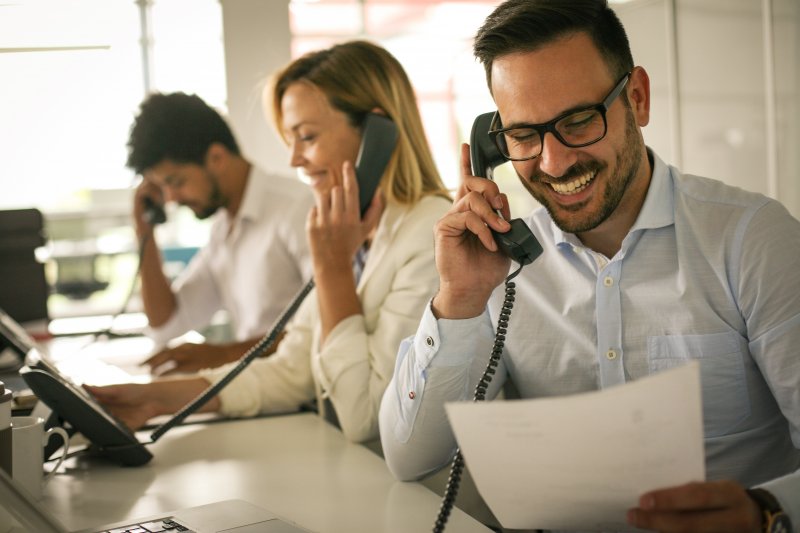 As you go through your work day, how often does your practice end up missing calls from potential or current patients? There are many hiccups that can cause you to miss out on new patients. It's one thing for your practice to not be open, but it's another thing entirely for your practice to be too busy to pick up the phone. Whatever the issue is, there is an easy way to mitigate these potential losses and get more people through the door.
To learn how a dental answering service can help you, keep reading!
No Answer Means No New Appointments
You may think that having an active answering machine is enough to ensure people that you're listening to their concerns. However, studies have shown that individuals who are met with answering machines are very unlikely to go back to that practice for future scheduling. This is because people want to speak with a human being who will listen to their concerns and fulfill their needs. With this in mind, giving the public a robotic voice may be seen as a detriment to your practice's growth, not a benefit.
Furthermore, people have no issue with moving on and calling another practice in their area who will answer their call. To prevent this from happening, you need someone who is prepared to take their call and make them feel confident that their needs are being met. That's where the dental answering service comes in.
What Does a Dental Answering Service Do?
Dental answering services are so much more than just answering machines. They are real people who build connections with new and current patients. They are the first line of defense when it comes to your practice's overall image. When a person calls to inquire about your practice or schedule an appointment, they make sure that process happens and that new faces are walking through your door during normal business hours.
By the time they arrive, they should be asking you or your administrative staff who they spoke to and if they could talk to them. It's that kind of positive experience that ensures that they come back for routine exams, cleanings, X-rays and any other treatments they need.
How Else Can They Help?
While scheduling appointments is a dental answering service's bread and butter, they do far more to help your practice stay productive and efficient. By utilizing their services, you can get support for:
Undone Treatment Calls
Post-Op Calls
Confirmation Calls
Re-Care Calls
AR/Balance Due Calls
Their services are ideal for practices who are experiencing high volume or simply don't want to miss out on potential patients when the business is closed. They work within your schedule to make sure your practice stays profitable.
Ready to get the dental scheduling support you need? Schedule an appointment today and learn how a dental answering service uses your current software to increase your patient base.
About Dental Support Specialties
When an employee from Dental Support Specialties takes calls, they aren't just an offsite employee. They're a member of your team. They put a strong emphasis on customer service and productivity. Most importantly of all, they make sure your practice grows. To get started utilizing their services, you can contact them through their website.