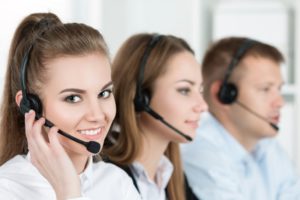 If you're practice gets many calls on a regular basis, then you understand the implications of missing calls from current or brand-new patients. Missing a call today could mean you never hear from that prospective patient again! However, what if you had a support team that did more than simply field calls and take voicemails? What if they could build a stronger connection with that person, present a positive image for your practice or make it easier to help patients already present in the office?
A dental answering service does all that and more!
Building Connections
When a patient typically calls your practice, are they expected to talk to an actual person or simply an automated messaging system? As it turns out, automated systems are less likely to result in conversions because people want to speak to an actual person. If they knew it was going to be an automated system, they would have simply gone online or sent an email to schedule an appointment. However, a dental support team can not only give people peace of mind that a human is listening to their needs, but determine if they're the best type of patient for your practice (i.e. needing specific services). Building this relationship is key to finding and maintaining regular patients.
Creating a Positive Image
If a patient has never visited your practice before or spoken to you directly, their only true first impression they have is what they've seen on your website or the person who answers their phone call. When a team member answers, are they putting your practice in the most positive light possible? Your support team understands that all people calling in deserve a very high standard of customer service.
Maximizing Production
Getting your schedule filled is incredibly important for any type of medical practice and dental practices are no exception. That means getting people scheduled for routine hygiene visits is going be a very high priority for your support staff. They'll work with your current hygiene staff to make sure your schedule is full, regardless of the season. Of course, the end of the year where benefits usually reset is particularly important. They'll even send out reminders to help patients be aware of their upcoming appointments.
Focusing on the Patients In Front of You
When people make the effort to visit your practice, you don't want them to feel ignored. Your office staff doesn't have to worry about staying on top of calls nearly as much if they have a support team fielding them for you. That means they can focus on the people in the practice who have questions about treatment, insurance, or any other relevant information.
Whether they're scheduling their first appointment or handling dental insurance verification, a dental answering service is truly a lifesaver for any busy dental practice. Get started assisting your administrative staff today!
About Dental Support Specialties
The team members at DSS are fully-trained to use your practice's current office management software and phone systems, meaning they require no additional training to get started helping your practice maximize its production. To get started helping your staff and build a better practice overall, you can contact Mary Beth or Joe Bajornas through their website.