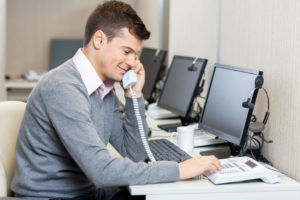 When you're patients rely on dental insurance to receive treatment, making the process simple and straightforward is a very high priority. Each step of submitting claims forms needs to be taken into careful consideration; you don't want patients to get upset when they realize that their treatment isn't getting properly covered or their statements take forever to come in the mail.
Of course, you also wouldn't want their forms to get rejected outright for a seemingly insignificant detail. That's where dental insurance support comes in!
Keeping Your Patient's Records Up to Date!
With so many plans available from different companies, you're probably aware that patients change plans and providers on a regular basis. As these changes occur, it's imperative that your team knows what these changes are and that your patients know as well. Having a support team exclusively for insurance will make this process much easier. The more they know, the more incentive they'll have to attend regular follow-up and preventive visits.
Avoiding Surprise Fees
When an unexpected deductible or co-pay appears on a patient's statement, it's typical for them to blame the doctor for not telling them this would happen. The last thing you want to mess with is people's money, as few other issues will make your patient base dwindle more quickly. To prevent this frustration dramatically, a support team makes sure all patients know what their out-of-pocket costs will be, before they start treatment.
Saving Your Office Time to Speak with Patients!
Keeping your cash flow consistent is essential if you want to avoid your practice from going into debt. It will also help your patient base feel confident that their money is in good hands and being utilized for the benefits they paid for. As your support team starts to take more of the workload away from your office staff, your staff will have more time to answer questions, schedule follow-ups, and build long-lasting relationships that last for years to come. It just might bring in some new faces along the way, such as friends and family members!
Meeting Your Bottom Line
Insurance collections have a huge impact on your bottom line. To make sure you're collecting payments owed to you and not just letting them sit idly by, a support team can put systems in place that monitor these payments. That money will only allow you to improve your patients' overall dental experience.
A Team Who Knows the Language
Insurance verifications allow your patients to confirm exactly what benefits they need to use before they expire. A support team not only understands the language insurance companies use, but can confidently speak with them directly. No longer will your patients be on their own when determining what benefits are available to them as the tedious and time-consuming process is handled by your support team!
Don't let dental insurance get in your patients' way of receiving treatment. Choose a support team that takes dental insurance verification seriously!
About Dental Support Specialties
Mary Beth and Joe Bajornas only hire the best when it comes to support teams exclusively for dental offices. No where else can you find a team that understands dental insurance, follow-ups, and customer service quite like they do. To learn how a support team can benefit your practice or get started, you can contact them through their website.