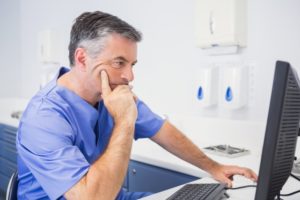 Whether it's for their first appointment with your office or one of several as part of a treatment plan, following up with patients is essential to maintaining consistent cash flow and a reliable client base. Without routine follow-ups, people may have no idea that they have an upcoming dental appointment. They may not realize that follow-up appointments are needed to complete their treatment!
However, a dental scheduling service can integrate the practice of follow-ups into your office's protocols, therefore reducing the number of cancellations and no-shows!
Reestablishing Connections With Patients
It's understandable that for most people, dental visits are not typically the number-one thought on their minds. They've likely got work, family and other obligations taking the top spots of their priorities. However, that doesn't mean they don't care about maintaining oral health. What they truly need is someone out there who cares enough to remind them about an upcoming dental appointment.
When a dental scheduling employee calls in, they don't just call to remind them about an appointment. They're also making sure that patients know about outstanding bills, providing record requests, answering account questions, rescheduling appointments and any other information and functions that patients should be aware of.
With this positive interaction, you're far more likely to reactivate a patient and get them in the dental chair to start or complete their current treatment plan.
Lending an Extra Hand to Your Team
If your office is dealing with high turnover or multiple employees taking time off for vacation or caring for newly-born children, it can be tough to work without them. If your current team is feeling the pressure and just cannot handle the stress that comes with missing administrative staff, a dental scheduling support system can remove some of the heat during this time. Of course, just remember that you might not want to go back once you've realized the benefits it can provide.
Furthermore, an offsite support team is more available than your own in-office staff. You don't have to worry about an offsite team being gone for vacation or sick at home.
Working With Your Current System
Whenever you bring on new hires, are you forced to teach them all the intricacies of your practice's current software? This training only takes time and runs the risk of affecting your productivity. Dental scheduling teams are trained in all sorts of dental software, meaning they're ready to help you as soon as you ask for support. No more spending time away from patients just to help your office staff get started.
The last thing you want to do is let patients or treatment plans fall through the cracks. Instead, hire a dental answering service whose sole job is to account for these issues. Schedule an appointment to learn more about maximizing your productivity and catching calls when they come in!
About the Author
Mary Beth Bajornas is the founder and director of Dental Support Specialties, a company that works to provide dental practices the help they need when scheduling and reactivating patients. Her team is packed with experts in the dental industry and prepared to help your practice get patients the treatment they need. To learn more, you can contact her through her website.