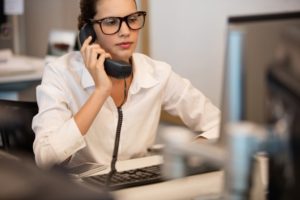 Have you considered limiting or even completely removing insurance from your office because of the fear that your patient's insurance will get rejected? If so, you should know that you are far from the only dentist to do this. Insurance companies make it increasingly difficult to keep up with their changing plans and terms, making it harder to know what can be covered and what cannot.
However, you don't have to settle for fewer payment methods when you have dedicated dental insurance support.
Understanding Insurance is Simple With Support
Many practices are stuck with claims that insurance companies simply refuse to pay for. This leaves a hole in your practice's pockets and only keeps your patients wondering if their dental treatment will ever get coverage. No matter the number of submissions, appeals or narratives it requires to gain approval, a dental insurance support team can make it happen.
Of course, the support doesn't stop when they finish making a phone call to the insurance company. A dedicated team works to make sure patients receive their statements, no matter how old the claim originally was in your practice's database.
Insurance Verifications You Can Rely On
If it's the dental insurance verifications that have you more concerned, rather than speaking with the insurance companies themselves, you'll find that having a support team that can manage that as well can make a big difference. In some cases, writing even the smallest incorrect detail can lead to the entire form being rejected, putting you and the patients at square one when it comes to getting payment.
Instead of relying on a generic call center to work with your patient's verifications, you have a team who's knowledgeable on the changing aspects of the industry and prepared to help those get insurance verifications filled correctly the first time. The fewer rejections your office sees, the more confident your patients will feel seeking treatment, pursuing follow-ups and maintaining their oral health.
A Team Experienced in Speaking to Dental Insurance Companies
Keep in mind that a dental insurance support team is specifically catering to your industry, meaning they'll know exactly how to speak with insurance companies while still working seamlessly with your practice's software. At the end of the day, it's about getting claims filed and making sure they don't have to visit the claim again.
Once they've gotten your patient's claim approved, your support team will continue to manage your practice's daily claim submissions, print and mail patient statements, and perform balance collection calls as needed.
Helping your practice is about more than simply making sure you get the money you're owed. It's also about giving your patients peace of mind that their care will get covered.
About the Author
One of Mary Beth Bajornas' largest passions is helping dental practices in all facets of management and support. From the moment you set up a plan with her team, you're getting reliable support that keeps your cash flow consistent and your patients excited to schedule their next appointment. To learn more about her services, you can contact her through her website.