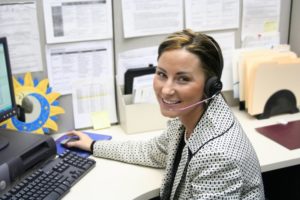 These days, it's hard to find employees that are not only good at their job, but reliable when the office gets busy. Unemployment is lower now than in previous years, so chances are the employee you've been searching for is already employed or has moved elsewhere for another job opportunity. With that being said, what if there was a way to get a highly-qualified employee whose only role was managing your practice's many administrative duties?
That's where a dental answering service comes in. Here's what you can expect when using their services!
A True Expert on the Dental Industry
Most answering services don't cater to any specific industry. That means there's no guarantee that the service you select will understand all the information you need them to convey to potential patients. They may not understand all the inner workings of the treatments you offer or how dental insurance companies operate. For these reasons, you shouldn't just select any answering service.
A dental answering service is fully-trained to handle everything your practice experiences over the phone. Not only can they handle scheduling, speaking with companies over insurance verifications, and customer service, they can also navigate your practice's unique software to schedule visits through secure remote internet access. No additional IT training or expensive software addons are required!
Accountability That You Deserve
How many dentists can summarize exactly what their office management staff accomplished in a single work day? Can they quantify how many conversions they made or determine the true quality of their work? In most cases, dentists are putting money into employees that aren't managing the office the way they envisioned, nor do they help expand their patient base.
Whether you need extra support for your current team or you recently had a high turnover, a dental answering service brings the best of both worlds when it comes to customer service. To do this, they provide you a summary of everything they accomplished for your practice on a daily basis. This way, you'll know exactly what you're getting for your dollar.
An Extension of Your Practice's Image
Every time someone calls your practice, they are getting a small glimpse of what to expect when they visit in-person. If they're met with a voicemail or an employee who isn't giving their full attention, what does that say about your practice overall? Considering many patients won't call back if they aren't given service initially, capturing this first conversion is key.
Keep in mind that a quality answering service isn't merely a replacement for an answering machine. They're a team dedicated to following up with patients who have upcoming treatments, reminding them when payments are due, and managing post-op calls to confirm they are healing as planned. When your patients start walking in asking who helped them manage their appointment, you'll understand how powerful effective customer service truly is!
Maximize your practice's full potential by scheduling an appointment today!
About the Team at Dental Support Specialties
The support specialists love what they do because they know they're helping dental practices improve their overall productivity. Their goal is to provide the highest level of customer service to dentists and patients alike. To learn more about their services, contact Mary Beth Bajornas through her website.