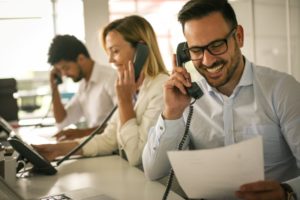 As a dental professional, your biggest concern is making sure your patients are properly cared for. You also want to confirm they have the tools to manage their oral health for life. Of course, running an entire dental practice is rarely a simple process. Missing calls from prospective patients and having current patients' insurance rejected only makes your job more stressful.
To curb stress and missed opportunities, a dental answering service may be what you need. Here are three ways they can save your practice money in the long-term!
A Dedicated Service for Dental Insurance Verification
It's common for dental offices to offer patients guidance when verifying insurance claims. However, typical claims can take an average of 45 minutes before completion. This only takes time away from your patients in the practice as well as from the people calling in to ask questions or schedule an appointment.
Alternatively, you can have a dedicated team who not only handles verifications, but knows how to speak with insurance companies and keep up with their constantly changing policies. By trusting a professional service, you can avoid the problematic situation of mishandling a patient's money when filing their insurance claim.
Getting Your Callers Into the Office
It's quite shocking how many patients don't bother scheduling the moment they are met with a voicemail for your office. According to a report from BT Business, small and medium-sized businesses are losing millions of potential revenue due to missed calls. In the report, it states that 85 percent of callers who can't reach a company the first time will not attempt to call back. Furthermore, 75 percent of callers won't leave a voicemail.
Instead of making your callers settle for a robotic response, they can speak with a representative who will hear their problem, get them scheduled, and be able to determine what kind of patient they are. If they learn that this person has the potential to become a regular patient, they'll always take note of it.
Saving Money on New Employees
Paying the cost of overhead is no easy task, especially when you have a large team. The average salary for a dental receptionist is around $30,000 a year, and that's not including their benefits or paid vacation. What's even worse is that you can't rely on them to do every task your practice needs.
Instead of relying on your entire in-office team, you can use your funding for a service who doesn't call in sick or carry the same high costs, without losing quality customer service. Therefore, your in-office employees can pay more attention to office duties and answering patient questions.
An answering service allows you to offer your community the best impression possible. Consider utilizing one to make managing your practice easier and save money today!
About the Author
Mary Beth Bajornas is an expert in all things dental administration. With her help, she can boost your office's productivity, stimulate cash flow, and help you save in the long-term. To learn more about her service and how it works, schedule an appointment with her through her website.