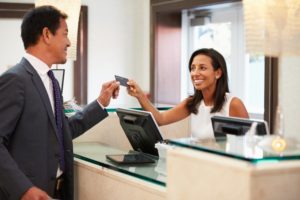 If your current dental answering service only answers calls for you and leaves messages, you should definitely take a moment to learn what it should be offering you. While it's convenient to have extra support when answering patient calls, it's actually nothing more than a glorified call center. Most of these centers don't cater to specific industries and will attempt to work with any company that hires them.
However, some services cater their expertise exclusively to dental practices. By choosing that service, you get so much more. Here's what you can expect.
What Happens After the Phone Call
For a typical call center, employees would answer the phone on your behalf and attempt to get a prospective patient scheduled for an appointment by any means necessary, or simply take a message. However, that's often all that happens because they don't understand the unique inner workings of your practice.
In comparison, a dental answering service takes calls and manages messages, but with greater attention towards customer service within the context of dentistry. For example, they're more likely to learn about the patient's needs and determine if that patient is likely to become an established part of your current base.
Furthermore, an answering service catered to your industry will:
Establish a scheduling protocol
Use a customer script unique to your patients and practice
Book appointments while maintaining a positive image
Integrate with your dental software
Support for Insurance and Dental Billing
When your in-office staff is already busy speaking with patients who are already present, it's easy to let essential administrative duties like dental insurance verifications and submissions go on the backburner. That leads to higher chances of inaccurate forms being submitted, late statement deliveries, and eventually an unsatisfied patient base.
With support who knows the ins and outs of the dental industry, you and your current staff don't have to stress about communicating with insurance companies and keeping your income stream flowing. As a result, you can focus on giving patients the attention they deserve when they visit.
Getting to Know Your Patient Base
One of the most important parts of maintaining a dental practice is keeping a reliable patient base. When you know patients are going to come through your doors, you don't have to constantly worry about finding new patients, which can be a daunting task. A call center won't bother going through your current list of patients and determine why they canceled or failed to show up to an appointment.
Along with chart auditing, a dental answering service can:
Perform follow-ups for past due re-care and unscheduled treatments
Provide benefit information
Discover your truly active patients
Improve communications with your patient base
When you're spending money on support, you want to make every dollar count. That's why you need a service that's only focused on your industry, not a one-size-fits-all call center.
About Dental Support Specialties
If you're looking to increase the efficiency of your practice while improving the patient experience, look no further than the team managed by Mary Beth Bajornas at Dental Support Specialties! Her team offers a service that caters exclusively to dentistry and takes customer service very seriously. To learn how your practice can improve its outreach and patient relationships, contact her through her website.