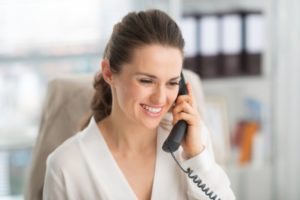 Is it a common problem for your patients to not attend their follow-up appointments for treatment? Maybe you schedule an appointment for a first-time patient only to have them never show up? When people live such busy lives, it can be easy for them to forget when their dental appointments are happening. Once the date passes, they typically won't bother to reschedule, costing you a patient and money.
With effective dental scheduling, you can keep your patients informed on upcoming appointments!
We Handle Many Types of Calls
We understand that there are many stages the patient goes through from the moment they decide to seek treatment to the moment they pay their balance. When you have effective dental scheduling occurring, each stage is being closely monitored. This works to reduce the number of patients that fall through the cracks, regardless of their familiarity with the practice.
When you have a dental answering service, you aren't just handling incoming calls. You'll also have a dedicated team performing:
Recare calls
Confirmation calls (to help remind patients of upcoming appointments)
Undone treatment calls
Post-op calls
And accounts receivable/balance due calls
No longer should you have to worry about lost business because a follow-up wasn't performed.
We Use Your Office's Software
When searching for services that perform follow-ups, it can be annoying if the service requires you to use their own software just to perform a basic function. You'd rather be spending that time working face-to-face with patients, not learning a new software from top to bottom and teaching your employees how to use it.
When you choose Dental Support Specialties to perform your dental scheduling, you can guarantee that the staff can use the software you already own. There's no need for additional software or IT to help your patients stay updated on upcoming appointments and treatment plans. We understand that using your existing infrastructure makes the process more seamless and easier to integrate.
Patients Can Expect a Friendly Call
Patients notice when you are consistently creating a friendly and helpful environment, even when they aren't physically inside the office. When our staff calls to remind patients of a balance that's due, they don't use strong-arm techniques or give patients a hard time. After all, it's more likely the case that the patient simply forgot or had another obligation that distracted them, causing them to lose track of payments due.
Additionally, having calls more managed makes it easier for you and your staff to work with the patients currently at the practice instead of being on the phone all the time. There's no reason you can't maximize production while still maintaining a friendly and positive image at the same time.
Don't let patients fall through the cracks. Help them stay on track with their regularly scheduled appointments!
About Dental Support Specialties
At Dental Support Specialties, we take customer service and dental support very seriously. Whether you need support due to staff turnover or vacation schedules, or you just want to ensure your patients are receiving the treatment they need, DSS is here to make sure it happens. To learn more about our services and how to get started, contact us at (330) 639-1333 or visit our website.