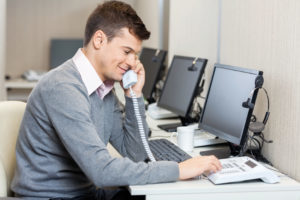 As a practice, you understand that getting that conversion is key to building up your patient base. However, it can be difficult to keep that patient's interest elevated. In some medical practices, no-show rates can reach as high as 50 percent, leading to tens of thousands of dollars in lost revenue. Uninterested patients also waste your time and the time of your other dental staff.
To convert calls into appointments, reduce the no-show rate, and find the right patients to build your base, you need a dental answering service to build sustainable connections with patients.
Choosing the Right Employee
Most administrative staff at dental practices know how to keep the office in order while you see patients. They can set up appointments for current patients, update their records, keep the office tidy, and perform many other tasks that come with office management. The real question is, can they perform all of these tasks and still convert a patient calling in? Are they guaranteed to be available when the patient calls and schedule that appointment?
More often, the staff is great at office management, but mediocre at catching every call that comes into the practice. Just like how marketers are great with speaking with people, they're more likely to be disorganized. A dental answering service picks up the slack when your staff is too busy with patients in the office or handling administrative duties.
Building Connections Over the Phone
Let's be honest, going to the dentist is not the most exciting endeavor for most people. When a patient manages to get through to the office and speak with your staff, is your employee able to see this fact from the patient's perspective? If your employee shows an extra level of compassion for those calling in, that new patient is far more likely to walk into the office asking, "Who did I schedule my appointment with?" With that boost of energy and incentive, you reduce your no-show rate and make use of the time slot you set aside for that patient, rather than waste it on someone who doesn't show.
Finding the Right Patients for Your Practice
When you have an employee dedicated to building patient connections over the phone, you're giving that prospective patient more attention than a typical administrative employee. For example, when your employee is on the phone with a new patient, are they:
Learning more about the patient's needs?
Figuring out if this patient can be a future source of referrals?
Determining if this patient takes their dental care seriously?
Confirming if they are a good long-term patient?
Finding the right type of patient is one of the most important steps in increasing your conversions. If a patient comes to the practice, sees the hygienist, sees the dentist, and determines this isn't the right practice for them, you fail to build your patient base further.
Don't underestimate the power of building connections with patients before they even show up. A dedicated dental answering service will make sure to give clients the attention they deserve and save your precious time and money in the process.
About the Author
Mary Beth Bajornas is committed to helping your practice get your calls answered and dedicated patients into your practice. To learn more about increasing your conversion rate or building meaningful connections, give her a call today!