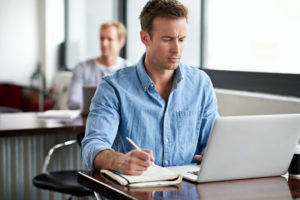 When dental offices trust a support team to help with their patients, they likely expect very little when it comes to patient relationships. Picking up the phone, taking a few notes, and having one of the dental office staff members call the patient back isn't really helping very much. At Dental Support Specialties, we do things a little differently. Not only do we offer actual scheduling assistance and treat your patients with the same respect and kindness that you would, but we also help dental practices by auditing existing dental patient charts to reestablish positive relationships with lapsed patients.

The Dental Support Specialties Difference
Every member of our team has dental field experience. We know how to answer patients' questions, maximize your schedule, and help you build relationships with your patients. We truly go above and beyond to get to know the people who trust their oral health care to you and make sure they look forward to visiting your team. We can answer the phone, call to follow up after dental treatments, verify appointments, and even make billing calls.
Our Chart Auditing Services
In addition to providing outstanding customer service to those patients who already visit you regularly, we can help you get patients who haven't been keeping up with their biannual appointments back in your practice. Our knowledgeable team will go through your patient charts and touch base with those patients who haven't visited in the last six months. We can help you reestablish positive relationships with these lapsed patients and make sure they feel welcome to come back to visit your office.
Meet the Dental Support Specialties Team
The Dental Support Specialties team is made up of professionals who have experience with the dental field. We understand scheduling, patient care, and know how to maximize your dental office productivity. Most importantly, we don't just answer the phone, take messages, or call your patients to ask for money (though we can do all of that too). Instead, we offer complete customer-centered services. Your patients may just think our team members actually work in your office, and that's just what we're going for. We want you and your patients to think of us as members of the team. We use your office management software, actually schedule appointments, and treat your patients the way you would. All while you and your in-office team are devoting complete attention to the patients in front of you. Ready to get started? Give our team a call to start creating your completely customized dental service plans.