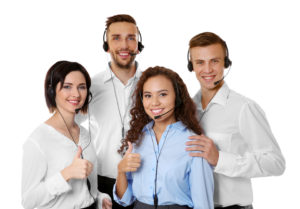 At Dental Support Specialties, we pride ourselves on going above and beyond the services offered by your typical answering services. The main way we provide the ideal support for our dental offices is by doing more than just answering the phone and taking messages. We actually take care of your patients because every member of our team has experience in the dental field. In this post, we'll talk about four things that set us apart from other answering services, and we welcome you to give us a call to find out more about our scheduling support options.

1 – We Build Patient Connections
Because every member of our team has a background in dentistry, we understand how to talk to and help your patients when they call. We take the time to treat each patient with the same level of care and respect that any member of your team would provide. In fact, your patients may be surprised our team members aren't actually in your office.
2 – We Project a Positive Practice Image
When your patients call some answering services, they know right away that they're talking to someone far away who doesn't know them or your dental office. When patients call your office and reach our team, they will feel like they're talking to a member of your staff. We truly consider ourselves to be your partners in providing exceptional patient care.
3 – We Maximize Production Within Your Schedule
Our team members are truly experts in scheduling productivity. We can help you make the most of every hour you're in the office. Your patients will never feel rushed through the doors, but you won't have downtime either. Instead, we'll create a seamless schedule that maximizes productivity.
4 – Let Your Team Focus on Helping Patients Smile
Because we're able to help your patients with so much more than other answering services, your team is free to provide every patient with more time and attention. Few people join the dental profession to spend time on the phone. You joined the dental field to help people, and when you partner with our team, you can do just that. Instead, your attention can be focused exactly where it belongs – on the patients in your office.
Meet the Dental Support Specialties Team
Finally, we offer one last thing the other scheduling and answering services don't – flexibility. Some support teams offer only one type of service, which means you have to work with multiple support specialists to get everything you need. Others waste your money by offering too many services and not allowing you to choose only those you actually need. At Dental Support Specialties, our skilled team has experience in the dental field that allows us to offer a wide array of services, including scheduling, answering calls, billing and insurance processing, and chart auditing. Whatever your dental support needs, our team can help. Give us a call today to find out more or discuss your options. We will personalize your plan to ensure you get the support you need.