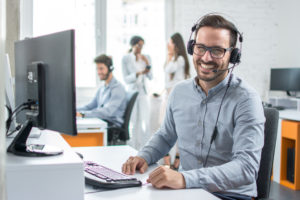 We've heard it all before. Dental insurance providers don't respond for months. You feel like your patients receive less time from your team because they're so busy with all the dental insurance claims. Many dental offices today tackle these inconveniences by avoiding dental insurance claims altogether. Unfortunately, that's not the best choice for patients either. Many will only seek treatment from dentists who take their insurance, and other patients will spend more time trying to file their own claims or lose money by not filing at all. There's a simple answer that offers a win for your office and your patients – Dental Support Specialties. We offer full service dental insurance and billing support to make it easy for you and your team members to focus on caring for your patients while we take care of all your dental insurance and billing needs.

Benefits of Partnering with Insurance Support Specialists
Unlike other office support teams that either only provide one service or make you sign up for all of their services, we provide customized plans for your dental office. That means you only pay for what you need our help with. There's no wasted cost on services your office won't use. Instead, you can select from our wide range of support functions, including billing, insurance processing, patient scheduling, answering phones, and chart auditing.
What We Do to Help
Our team offers a variety of billing and insurance services going above and beyond what most dental offices have come to expect from their support providers. We are happy to provide any of the following services:
Benefit verification
Insurance claim submission
Consistent follow up plans for active claims
Posting patient explanation of benefits
Processing electronic funds transfers
Printing and mailing patient statements
Making balance collection calls
Even more importantly, we offer customized support plans using your office's software, and we're able to provide such great support because every member of our team has a dentistry background.
Meet the Dental Support Specialties Team
At Dental Support Specialties, we're not your average billing agency or insurance support team. We offer both billing and dental insurance claims processing as well as a variety of other services, focusing on support for dental offices. We offer a wide variety of support services, but with personalized support plans, you only ever receive the services you want from our team. If you're ready to learn of about the benefits of partnering with Dental Support Specialties, give us a call. We'll be happy to discuss all of our services and help you find the right plan to maximize your dental office productivity and give you more time with your patients.