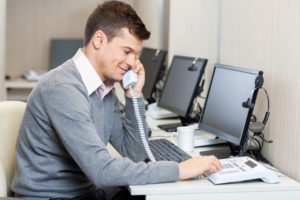 Accounts receivable and dental insurance claims processing can be difficult for any dental office – even those with the most experienced team members. Having a team of professionals with advanced training and experience to help you get the money you're owed from patients and insurance providers can take all the stress off your team's shoulders, so they can put their time and attention into helping patients who are in the office. There are many companies that offer billing services, but only the Dental Support Specialties team promises to get you the money you're owed while treating your patients with respect and building positive relationships with dental insurance providers.

What We Do
Our billing support services are highly varied. We work with you and your team to contact patients and insurance providers to ensure you receive the money you're owed. Some of the many services we provide include:
Insurance claims, preapprovals, and benefit verification
Active follow up and recovery for primary and secondary accounts
Post explanation of benefits (EOB) to patient accounts
Complete scheduled electronic funds transfers (EFT)
Mail and/or email patient statements
Make balance collection calls
Why Dental Support Specialties
Unlike other billing support providers that will only process insurance claims or send out bills to patients, our team does it all. We can make contacts, apply for insurance preapproval, and accept and apply payments from patients. Some of the many reasons practices choose to work with us include:
Take the stress off your team. Let your skilled dental professionals give their attention to patients, and we will handle the billing and insurance. Additionally, letting our professionals handle your billing removes the awkward payment conversation from your team members shoulders.
Our team works with insurance companies regularly, and we can quickly help you process and file claims to get your patients the maximum insurance coverage.
We offer complete flexibility of services. We can provide any or all of our billing support services. Your plan will be 100% unique to meet your specific needs.
Meet the Dental Support Specialties Team
The Dental Support Specialties team is here to help your dentistry practice with all of your billing and insurance needs. We also provide a wide range of office management and support services, including scheduling, treatment follow up calls, chart auditing, and more. Our team works hard to streamline your office productivity, allowing you and your team to focus on keeping your patients smiling. If you're ready to get started creating your personalized office support plan, contact us to schedule a consultation today.