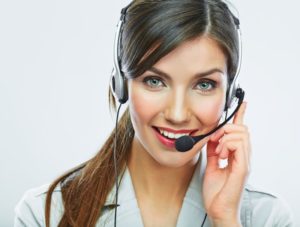 You've used a dental answering service for a while now because you were having issues covering your phones at all the times you needed, and while it's great that more calls are being received, your answering service still leaves a lot to be desired. When a patient calls, it's extremely obvious that they aren't talking to your practice, they can't get their questions answered, and they usually end the call frustrated without scheduling an appointment, which directly impacts your practice. You still need an answering service, but isn't there one that can do a better job of actually becoming part of your practice?
At Dental Support Specialties, that's exactly our goal. We'll not only answer your phones, but we'll also make sure your patients always feel like they are talking directly to you.
How We're Different
Most answering services just take calls and receive messages…and that's it. They make little effort to actually learn about your practice, and basically end up becoming a very expensive and unhelpful answering machine.
At DSS, we go beyond the basics. When you partner with us, our team will get to work learning everything they can about your practice. That way, when patients call in, it'll seem like they are talking to you and not some third-party. This will make them feel much more comfortable, and they'll even be able to have their questions answered.
Our team will become an extension of yours. We'll seamlessly integrate our processes into yours so there will be no disruption to your daily flow. You'll be able to just sit back and know that your schedule is being filled and your patients are being served.
What You'll Get With Us
When using DSS as your answering service, you can expect:
5-Star Service: Each of our team members is highly trained in the basics of exceptional customer service. They'll know how to make your patients feel welcomed, listened to, and taken care of so they'll be more than happy to visit your practice.
Specialized Service: Our team is intimately familiar with all of the inner workings of a modern-day dental practice. We're up to speed on the latest services and techniques so you'll never have to explain what it is you do. We speak "dental."
No Phone Trees: When patients call your practice, they'll be connected to a single support specialist and won't have to navigate through an endless series of menus to talk to a real person.
Directly Linked to Your Practice: We will fully integrate with your current scheduling software so it almost seems like we're working right in your office.
A Better Answering Service
At DSS, we're dedicated to making your practice as efficient and profitable as possible, and we do that by offering personalized services provided by a team of dental experts. In the end, we'll make sure you, your staff, and your patients are happy and well looked after.
If you're ready for a different kind of answering service, one that truly works for your practice, please contact us today.