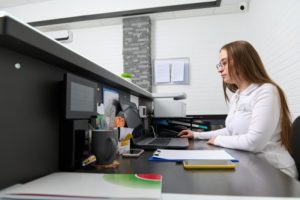 Regardless of what industry you work in, there are going to be slow days every now and then. However, gaps in your schedule on a regular basis can put you in a financial bind. Not only are you not bringing in as much revenue as you could, but you're also paying your team to sit around with less productivity. How can you minimize the number of gaps in your schedule? How can your team fill up the time doing tasks that help the practice? Follow these tips!
Check the Day's Patients for Diagnosed and Unscheduled Treatment
While your front desk team waits for patients to arrive, they could be doing a bit of research in the records. If they find that a patient has been diagnosed and a treatment plan created, they can make sure the work is also scheduled. For work that isn't on the calendar yet, they can remind your patient, hopefully getting them to schedule treatment and fill future gaps.
Check Family Members for Overdue Appointments
Starting from scratch and performing full-blown chart auditing requires a considerable amount of time and focus, and your front desk team still needs to be engaged for the patients who visit the office. Instead, they can focus specifically on a smaller subset of patients relevant to the ones already on your schedule.
Many patients have family members who visit the same dental practice. If the day's patients have family connected to their records, and if these loved ones haven't visited you in a while, your front desk team can try to reach out directly to them and see if they can come in soon. It's a quick way to access a slightly wider patient base without having to take on the entire thing.
Schedule the Next Appointment Before Each Patient Leaves
After each appointment, your front desk team must schedule a follow-up, re-care, or treatment appointment before the patient leaves as part of the check-out process. Sometimes, the patient wants to think about their calendar or consult with a significant other before committing to a set day and time, but you should do everything within reason to get their appointment on the schedule to avoid gaps later on.
Although holes in your schedule are going to happen from time to time despite best efforts, your front desk can play a role in keeping them to a minimum. By using their downtime wisely, they can fill those gaps with productive work that brings patients come back again and again.
About Dental Support Specialties
Since opening in 2008, Dental Support Specialties has provided administrative support remotely for practices across the country. Our services range from phone call answering to billing and insurance verification as well as chart auditing. In other words, we can take care of all the background work while your in-office team delivers exceptional customer service to patients in person. Interested in learning more about how we can benefit your practice? Contact us online, and we'll be happy to discuss your needs.