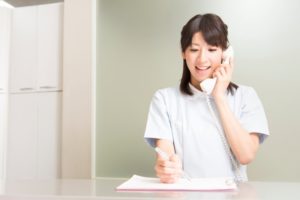 When you opened your specialty practice, you hand-picked your administrative team. Perhaps they had previous experience in your field, or perhaps they were eager to shift gears away from general practices. In any case, they are now highly trained and work efficiently.
But what do you do when your front desk workers go on vacation, take a lunch break, or are on maternity (or paternity) leave? You need someone to take phone calls that won't require a lot of extra training. Good news! Dental Support Specialties serves not just general practices but also oral surgeries and periodontal practices. Keep reading to learn the challenges that come with a specialty practice and how we can help you continue to thrive and grow.
Advanced Procedures
When you have a specialty practice, you offer certain services that a general practice doesn't. For instance, you may provide dental implant placement, advanced gum therapy, wisdom tooth extractions, and the like. As a result, the person answering incoming phone calls needs to have at least a basic knowledge of these specialty services to answer some general questions competently.
Of course, callers with more specific questions or needs will be forwarded to your clinical team, but Dental Support Specialties has the knowledge and training to handle most calls for oral surgery and periodontal practices.
Complex Scheduling
When putting together your practice's schedule every day, your team has to be cognizant of how long each procedure will take. Otherwise, you'll end up overbooked, stressed, and dealing with frustrated patients. Our team at Dental Support Specialties understands how to strike the right balance with your schedule, keeping it full and busy without booking too much within a day.
Insurance Claims
No matter what area of dentistry you specialize in or which insurance companies you're in-network with, the person taking phone calls must understand how your practice interacts with dental insurance.
Although your front desk team can answer questions in greater detail when the patient comes in person, our team at Dental Support Specialties can take down insurance information, answer basic questions, and defer to your policy regarding claims so your patients know what to expect when it comes time to pay for treatment.
In the end, you don't need just any answering service to take phone calls for your office; your specialty office requires an expert who knows your field, someone who can help your patients set up appointments while your front desk team members aren't available. Feel free to use our expertise to your advantage!
About Dental Support Specialties
Dental Support Specialties began offering remote administrative services long before the COVID-19 pandemic. We have the training and capability to serve general, oral surgery, and periodontal practices. In addition to answering phone calls with a trained professional, we can also provide insurance and billing support as well as assistance with special projects, like chart auditing. To learn more about our company and what we can do for your practice, visit our website.