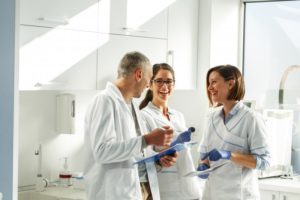 Over the years, you've worked hard, undergone years of training and clinical experience to get where you are today. Don't you wish you could have a support staff with expertise in your field of dentistry too? With Dental Support Specialties, you can! In addition to general practices, we also assist periodontal offices and oral surgery practices. Read on to learn how we can help each type of practice succeed.
#1 General Dental Practices
Most of the practices we serve are general practices, but within general dentistry there are plenty of certifications or areas of expertise. As a result, your team needs to have exposure to scheduling and managing many procedures ranging from routine hygiene and checkup appointments all the way to smile makeovers.
Although general practices tend to offer many of the same services, each one is unique. From the management software to the friendly tone used over the phone, we strive to match exactly what your general practice does that keeps patients coming back year after year.
#2 Periodontal Practices
When it comes to dental implants or gum disease therapy, periodontists have the specialized training to take care of even the most advanced cases. If your patients call with simple questions, your team should be able to answer them competently. Familiarity with this area is a must for administrative staff in order to maintain professionalism over the phone. While other dental answering service companies take messages, our team can schedule appointments and make patients' first contact with your practice a positive experience.
#3 Oral Surgery Practices
Although other specialties within the dental field include some complicated procedures, oral surgery practices perform some of the most invasive work. As a result, general dentists refer their patients to oral surgeons to take care of extractions, grafts or sinus lifts, implant placement, and other procedures that are more advanced. In addition, these procedures often include the use of sedation, adding to the complexity these practices deal with.
In this type of environment, you need to know that your support staff can handle working with general dentists as well as patients. Plus, they need to follow up with patients while they heal to make sure no issues come up.
For all of these kinds of practices, Dental Support Specialties has the knowledge and expertise to step in and offer administrative support. Whether scheduling appointments or answering simple questions, our team can become an extension of your in-office team, allowing you to focus on what you do best—taking care of your patients and helping them smile!
About Dental Support Specialties
For more than a decade, Dental Support Specialties has been providing remote administrative services to practices around the country. In addition to answering incoming phone calls, we can also help with chart auditing, and insurance verification and filing claims. If you would like to learn more about our services or our areas of expertise, reach out to our team through our website or by calling 330-639-1333.