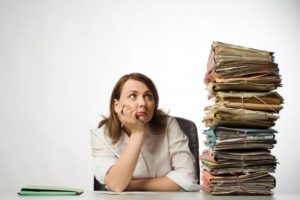 Insurance—it's a necessary evil in dentistry. Although many patients want to use their benefits to keep their out-of-pocket costs as low as possible, it creates a tremendous amount of tedious, time-consuming work for your team. How can you continue to accept dental insurance without getting worn down by it? Is there an option that offers dental insurance support? As a business owner, you have four ways to address the insurance question in your practice, but really only a couple options are truly sustainable in the long term.
Deal with High Staff Turnover
Onboarding a team member requires time, effort, and patience. While they're getting trained, your practice may not operate as smoothly or efficiently as it otherwise could. In other words, this process likely isn't one that you enjoy. Well, if your front desk staff members are bogged down with insurance duties while also trying to be friendly with in-office patients, you may be replacing them on a regular basis. When a worker is frustrated or unfulfilled in the work they do, they are more likely to want change, meaning more upheaval in your practice's day-to-day operations.
Give Your Front Desk Staff a Raise
When you stop and think about it, your front desk team has a lot of tasks on their shoulders. They are not only responsible for happily greeting and being your first point of contact with patients, but they also manage your schedule, answer phone calls, and collect your patients' information. When you add in long calls to insurance companies, your staff may feel that they are asked to balance too many spinning plates. Raising their salary to handle the insurance load may entice them to continue working hard for you, but for how long?
Hire an Insurance Coordinator
Many dental practices opt to bring on a staffer who specializes in insurance. However, even if your insurance coordinator goes into the job knowing that their exclusive task is insurance verification, this load may be too much for just one person to take on full time. They can spend hours on the phone for just one patient's claim, and your aging report can quickly stack up. It's enough to overwhelm any one person!
Hire Dental Support Specialties
Instead of bringing on just one person to handle insurance verification and claims, you could partner with a whole team of insurance experts. At Dental Support Specialties, our team has years of experience navigating the ins and outs of the industry and can keep your aging report as small as possible. That way you get paid on schedule and feel much less strain because of insurance.
Ultimately, working with insurance may be unavoidable, but it doesn't have to impede your practice's success or your office morale. Turn to Dental Support Specialties for dental insurance verification so that your team can focus on making your office an enjoyable, welcoming place to be.
About Dental Support Specialties
Long before the COVID-19 pandemic, Dental Support Specialties started providing remote administrative services to dental practices. From answering phone calls and scheduling appointments to dental insurance verification and billing support, we take the stress out of your practice's behind the scenes work, allowing you to improve your patients' in-office experience. If you would like to learn more about our amazing services, you can visit our website or call us at 330-639-1333.