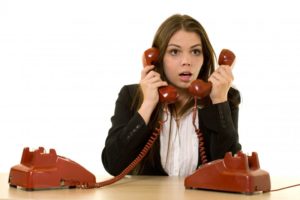 The signs are unmistakable: the phone rings incessantly, your front desk team looks ragged and overwhelmed, and the office culture suffers. Perhaps your practice has been flooded with calls from patients who need to get back on track after missing their appointment in the chaos of COVID-19. Maybe you lost an employee or two who were concerned about their health. Regardless of the circumstances, your staff needs backup to manage your dental scheduling and other front desk responsibilities. In this post, you'll learn about how Dental Support Specialties can lend a helping hand and keep your practice running smoothly.
How Does the Practice Atmosphere Affect My Profit?
For many people, visiting the dentist can be a nerve-racking experience. They can walk in feeling nervous or even downright afraid. But if they are greeted with a smiling face and a happy, welcoming team member, they can start to feel more comfortable. On the other hand, if they see a frazzled receptionist who rushes through checking them in, their anxiety can continue climbing.
Even if your patients don't struggle with dental anxiety, having a friendly introduction to your practice helps set the tone of their appointment. When they leave, you want your patients to want to come back, don't you? Cultivating a positive environment can make the entire experience more pleasant and encourage them to return for future dental work.
What Happens if I Do Nothing?
Every practice has a busy day every now and then; a sporadic stressful day here and there shouldn't impact your office's overall mood too much. However, if you find that these days occur more often than not, it can have a huge impact on everyone in your practice. Not only does being understaffed put a lot of extra stress on your front desk team as they try to balance serving in-office patients and answering phone calls. Without proper dental scheduling support, they won't be able to provide good service to either, potentially losing patients in the process.
How Can Dental Support Specialties Help?
Whether one of your employees is out on vacation, you're understaffed, or your practice is booming with incoming patient calls, Dental Support Specialties can pick up the slack. By taking over the phones for your practice, we free up your staff to take better care of your patients in the office. As a result, you can provide a better dental experience and be more likely to retain more patients in the long term.
Being understaffed doesn't have to bring your entire practice down. Allow us to manage the dental scheduling so that you and your team can focus on serving your patients with the best service possible. Give us a call to learn more about how we can help your practice succeed!
About Dental Support Specialties
Dental Support Specialties offers remote administrative services to dental practices around the country. From answering incoming phone calls to handling insurance claims and other projects, we've been helping practices run smoothly behind the scenes since 2008. Each of our team members has years of experience in dentistry and can work within basically any software without additional training. To learn more about our dental scheduling services, you can contact us by clicking here.