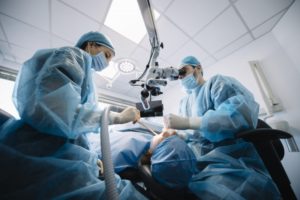 At Dental Support Specialties, we pride ourselves in the quality of service we provide our diverse clients. While many of the practices we support are general practices, we're more than just a one-trick pony. Unlike at "normal" dental practices, our team has the experience and expertise to work with periodontist practices and oral surgery practices as well. Each comes with a unique set of challenges, but we're familiar with these issues and know how to tackle them. In fact, here are four basic services we can do for your specialty practice.
Answering Incoming Calls
One of our most popular services is taking calls with our dental answering service. At a specialty practice, chances are that most of your callers are patients who have been referred to your office by their general dentist. They need to set an appointment to meet with you and discuss their case before jumping right into treatment, so this consultation can be very important. You want that first phone call and that first impression of your practice to be a positive one. We can take these calls, schedule their appointments, and answer questions so that your patients feel well cared for—even before they come into the practice.
Working with Your Software
In a perio or oral surgeon specialty office, you may work with a different software program than a general dental practice. That's okay! Our team is knowledgeable in many suites and requires little to no additional training to offer dental scheduling support. We can work within your system immediately, freeing up your team to focus on in-person customer service. As a result, your patients in the office can have a more pleasant experience in your office.
Filing Insurance Claims
When it comes to complex insurance claims, your team members need to be experts in order to process them correctly and efficiently. Luckily, we are experts! Even in the world of perio treatment and oral surgery, we know how to file claims correctly so that you get paid as quickly as possible.
Handling Accounts Receivables Recovery and Collections
There are some necessary tasks that your team may not be comfortable doing. Calling patients to collect on outstanding fees or following up with insurance companies can be awkward or frustrating if you're not accustomed to doing it. At Dental Support Specialties, we handle these situations all the time and can represent your practice well to the patient and the insurance company.
Your practice is special in many ways, and Dental Support Specialties can help your office succeed by covering these administrative tasks. Just as you're the expert in your field, we are the experts in ours. Let us do what we do best so that your patients receive exceptional care from the most qualified hands.
About Dental Support Specialties
For more than a decade, Dental Support Specialties has provided administrative support for dental practices throughout the country. We currently offer many services to general practices, perio practices, and oral surgeon practices, but we hope to be able to support orthodontic practices in the future. If you have questions about our services or if you are at a specialty office and would like to work with us, you can contact us by clicking here.