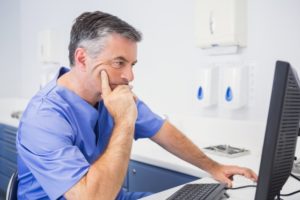 You may have already experienced this at your practice or heard another dentist tell you about an angry patient they had because their dental bill was much higher than expected. When it comes to patients, the absolute worse thing your practice can do is mishandle their money.
If they're told a service was covered and learn later their insurance doesn't provide as much as you told them, they'll assume your practice is incompetent, when in reality you just don't have a team dedicated to the process of dental insurance verification.
Without a Dedicated Team, You're Open to Hiccups
Dental insurance verification can truly be a tricky process. As if handling all the typical administrative office duties wasn't enough, your staff is forced to rush through verification, increasing the chances of forms being filled out incorrectly or with inaccurate information. The fact that insurance companies are constantly changing their coverage policies doesn't help, especially when all you can think about is performing and providing treatments your patients need.
It's one thing when statements are sent to patients late, but it's another thing entirely when their initial estimate is completely inaccurate or their coverage is denied. The moment your patients receive that notice is the same moment they remove all ties to your practice, causing interrupted cash flow and more stress on you and your team.
How a Dedicated Team Can Pick Up the Slack
Instead of relying on your already overworked staff to fill out sub-standard claims to insurance companies, you can utilize a team that's highly knowledgeable on the small intricacies that often accommodate the verification process. When you have an individual who's only job is to confirm that all patient information is accurate and up to date, you can dramatically decrease the amount of rejections.
Furthermore, this dedicated employee will go the extra mile to confirm claims are accepted by performing follow-ups to insurance company representatives. It's the best method to ensuring your patients are paying what they expect, without risking a drop in cash flow.
Reliable Verification Leads to a Satisfied Patient Base
Even if you offer the best dental care in town, it won't prevent patients from looking the other way when their statements are delivered long after they receive treatment. Even if they're happy with the outcome of their treatment, your long-term relationship with that patient is at risk when administrative tasks aren't promptly fulfilled.
Instead of loading the time-consuming process of verifications onto staff who already handle interactions with patients daily, consider a network of experts who's sole responsibility is making sure estimates are accurate and insurance companies are sending you payments.
You've already spent the time and effort learning and perfecting dentistry, don't let administrative pitfalls cause your patient base to dwindle!
About Dental Support Specialties
If your practice is having issues with verification, retaining patients, or even picking up the phone in time, Mary Beth Bajornas and her team can offer all that and more for your practice. To learn more about simplifying verifications, contact her through her website.