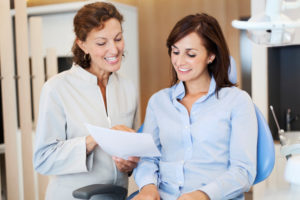 As a dentist, you rely on your office running smoothly to make the most of your time to deliver high-quality care to your patients. To effectively treat them, there are many tasks that your staff must handle each day, including dental billing. This creates a certain challenge because it is very time-consuming but necessary to support your practice. Now, you can remove it from your day-to-day responsibilities to better dedicate your staff's time and effort elsewhere. Dental Support Specialties will handle your billing so you can focus on what matters the most—your patients.

Simplify Your Dental Billing
To help your patients maximize the value of their dental benefits and to guarantee you are properly reimbursed for your services, you depend on accurate billing. However, working with the insurance companies creates its own set of challenges, leading to frustration and lost time that could have been spent with your patients.
As your office staff works to get insurance claims approved, simple errors can lead to costly delays for you and your patients. Common mistakes with the submission, follow-up, and verification process can hurt your bottom line and cause you to have to delay necessary treatments. With Dental Support Specialists, we offer the solid system you need with dental billing support.
We offer an array of flexible solutions that cater to your practice's specific needs. We will help you better manage your Insurance and Accounts Receivable functions to enhance your office performance.
Benefit from a Complete Support System
Our specially trained staff works with all dental software to streamline the billing process. We provide benefit verification before procedures so you are reimbursed while keeping your patients' out-of-pocket costs to a minimum. With daily claim submissions, you will not have to wait around to hear back from the insurance company.
We offer a consistent follow-up and active recovery of submitted primary and secondary claims. This helps to decrease disputes between the two insurers so they cover their responsible portions of the treatment. We also post patient EOB's and EFT's to accounts while also printing and mailing your patients' statements. In addition, we offer a balance between collection calls to increase your cash flow.
Focus Your Time on More Important Matters
With Dental Support Specialties, we help you take a proactive approach to better manage your practice. By outsourcing your billing, we will submit your insurance claims and complete the necessary follow-ups so you can rest easy knowing you and your patients are covered. We remove costly mistakes with accurate claim submissions while helping your streamline the reimbursement process.
With our support team handling your billing needs, your staff has more time to focus their attention on your patients while you sleep soundly at night knowing your cash flow is well-managed. If you are ready to concentration on what matters the most, we are here to help. Contact our office today to speak to one of our specialists to improve your office's performance.