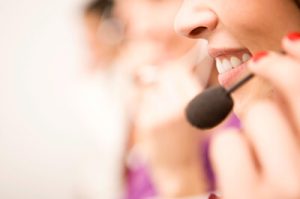 You spend thousands of dollars a year in multiple marketing strategies to get patients to call your office right? Websites, internal marketing, brochures, newsletters, care-to –share cards, mugs, pens, social functions, coaching, signs, etc.
You are spending all this money to attract new patients to your office, keep you connected with existing patients, so why wouldn't you have someone answering your phones at least 40 hours a week? If you don't have appropriate daily phone coverage, aren't you just throwing your money out the window?  (I'm not even talking about after hours coverage – I am talking about normal 40 hour a week business availability to your guests)
Why not advertise "Hey, we want you as a new patient but only call during these hours and never on a Friday and we'll only see you on Mondays, Tuesdays and Thursdays?" THAT will bring them in.
A new patient calls. It's a Friday. They get an answering machine that says you'll be back on Tuesday, call back then. What do YOU think the chances are they are going to leave a message, let alone call back?
We support many offices who are off a few days out of the week, but always have phone coverage. Guess what? New patient calls get answered, and new patient appointments are scheduled. Existing patients call to cancel their appointments – no more coming in on Monday mornings to an answering machine full of cancellations that just get cancelled and never followed up on – let's keep them on the schedule somewhere. Holes are created for the next few business day schedule by these last-minute cancellers who always try to call on the days they know you're out of the office?  Let's work those short call and past due recare lists to get those holes filled. A patient finally gets up the nerve to call and schedule that restorative appointment and gets an answering machine – they might not get the nerve again until their next hygiene visit. We get them scheduled, on the books, today.
Marketing dollars, not only spent, but spent wisely with strategic systems in place to make the most of the opportunities they bring, will provide you the best bang for your buck ever!
It doesn't take big marketing bucks to succeed. But it does take answering the phone to schedule the appointments that your marketing endeavors are aimed at driving the patients to call. You have to take advantage of every opportunity that comes knock, knock, knockin' on your door!
This thought for the day was brought to you, and approved by, Mary Beth Bajornas ☺
PS – A straggler thought – but necessary. If you don't have a website for your practice, you don't exist in over 80% of the households in America looking for a new dentist. Food for thought. If you need a website, be sure to check out DDS.com and get your practice on the map!