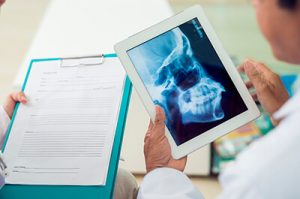 How many exams have you done in a day and felt exasperated before you had even entered the room?
Do you feel unprepared for your patient exams, like you don't have enough information to quickly, yet thoroughly complete the exam within your given time?
What would it feel like to walk into a patient exam and know the:
a) Patients name
b) Chief Complaint
c) Periodontal status including home care regimen
d) Areas of concern (as noted by the hygienist) with IOC pictures and films ready to be viewed.
e) If the patient is ready to proceed with recommended care NOW
All of this presented a conversational way, allowing the patient to feel the full value of, and appreciate, your time.
Yes, this can be done! Effectively, efficiently and most important compassionately.
Implementing a strategic system, planning for your patients and having your team own who is on the schedule for the day will make all the difference in the world – in patient care, satisfaction and treatment case acceptance.
Having your hygienist lead the conversation by supplying all of this valuable information in a conversational tone will expedite your patient exams, ensure nothing is missed, and supports your team in being fully prepared to provide patient information promptly.
How fantastic would this feel to decrease your stress, allow for smooth transitions between doing your dentistry to exams and make your patient exams more effective? (which ultimately means increasing your production!!)
No more do'h forehead slap moments of frustration or forgetfulness in your practice. No more "oh shoot, we should have told them about that" or "darn it, we didn't have time to talk about that – we'll have to address it at their next appt".  These systems will have you covered.
Effective communication is crucial for implementing these systems. Who are your star players? Who can support you in implementing these systems?
Make a template to include all the information you would like to have presented to you at the beginning of each exam. Define your needs and expectations – You'll be so glad you did! You'll not only see an increase in your production – you will also improve your referral base to support the growth of your practice.
Make it happen, and enjoy your continued success!
Deb, RDH, DVA – Making a difference is what I am passionate about!