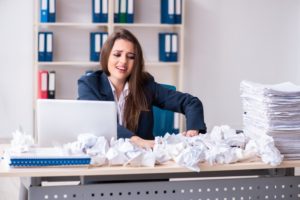 When you graduated from school, you may have thought your days of writing were behind you. Dentistry doesn't seem like an industry that involves writing, but when it comes to dental insurance claims, you need to write a narrative or justification and context for treatment in a statement called a narrative.
While this narrative doesn't have to start with "once upon a time," it does need to tell a story—your patient's dental story. To help you write a good narrative for each insurance claim, here are some tips to keep in mind.
Be Concise and Clear
Just because you're writing a "narrative," you don't have to wax poetic. The dental insurance companies simply want some context for the services they should cover for the patient. It should include answers to who, what, why, where, and when. Necessary elements of your insurance narrative include the following:
Existing restorative work with dates and descriptions.
Patient symptoms and complaints.
Amount and location of decay or damage.
Estimated amount of natural tooth structure after treatment.
X-rays and intraoral images.
Know and Use (or Avoid) Key Terms
When the insurance company reads your narrative, there are certain terms that jump out at them as services or problems they will or won't cover. For example, if the narrative describes erosion or abrasion, which is enamel wear due to brushing, the insurance company will likely deny the claim. As a result, these terms should be left out of your description to increase the chances of the claim being approved.
On the other hand, two dental cleanings and checkups are basic covered services, so you probably don't have to go in depth about what was done.
Don't Use Prewritten Templates
As tempting as it is to use the same boilerplate text for multiple cases to save time, your patients' narratives cannot use a one-size-fits-all explanation. Each case is unique and requires original, personalized context. If you choose to use stock narratives and don't make sure it's completely correct, your practice could be accused of insurance fraud. It's simply a smarter choice to take the time to write the narrative in-house for every insurance claim.
Keep the Writing Professional
The patient's narrative is a legitimate, professional document and should be treated as such. If it contains too many typos or minor mistakes, it can not only make the claim look more suspicious but also taint the reputation of your practice. The narrative should not be handwritten, and you shouldn't use abbreviations or slang. All evidence, such as photos or X-rays, should be attached to the claim as well.
In the end, you won't receive a grade from a teacher for your writing, but the narrative plays an important role in getting insurance claims approved. Take the time to craft a strong narrative so that your practice can be paid your fees in a timely manner.
About Dental Support Specialties
Dental Support Specialties has a team of dental insurance experts. In fact, many of our team members bring years of experience working as administrators in dental practices, which means we know how to write narratives for insurance claims. We also handle the verification process, which saves your team time and frustration on the phone. If you are interested in learning more about our services and how we can support your business, get in touch with us here.