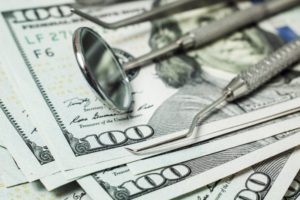 With the end of the first quarter approaching, you're taking a closer look at your practice's revenue. You're careful about expenses, and when you consider adding new services, you ask the golden question: how much will dental support cost? However, when it comes to Dental Support Specialties, the main question you should ask is how much you could save. In this post, we'll share three ways that our services can help your practice bring in more revenue.
We Get You More Conversions
You may think it's harmless to use an answering machine or a basic answering service for those times when your team is out to lunch, on vacation, or simply not available to get the phone. However, many people these days would rather hang up and try another office than leave a message. You could be losing a significant number of potential patients! At Dental Support Specialties, our friendly professionals treat your callers with respect and meet their needs, helping you get your schedule filled.
We Get You Paid On Time
Dental billing can be tricky if you work with dental insurance companies. Your team has to collect and input the patient's insurance information, verify their coverage, properly file the claims, and follow up with insurance companies on the phone sometimes for hours. That's just for one patient!
Although it can be tempting to count unpaid insurance claims toward your revenue, you shouldn't because it could be a long time before you're actually paid that money. Dental Support Specialties can expedite the process and make it far less painful for your team members. We can dedicate our time to dental insurance verification and collections, ensuring that you receive the payments you're due in a timely manner.
We Spare You the Cost of Hiring New Staff
Hiring new staff members can cut into your practice's profit margin. Not only do you need to pay them a competitive salary or hourly rate, you have to pay for their benefits and maybe even a 401k. Basically, you need to think hard before accepting that large of a cost and hiring someone else to join your team. With our company, you don't have to worry about paying someone a full salary with benefits.
Bringing on a new team member can also be an exhausting endeavor. A few months down the road, you hope that your office will be running more smoothly and that the new staffer will start helping the practice instead of slowing it down. At Dental Support Specialties, we don't require any additional training, and saved time equates to saved money.
Ultimately, you're going to have to pay someone to handle the complex administrative part of your business. However, with Dental Support Specialties, your money goes much farther, ensuring that you see improvement in your practice's profitability in future quarters.
About Dental Support Specialties
Dental Support Specialties has been remotely helping dental practices succeed since 2008. With dozens of highly experienced dental professionals, we offer answering and scheduling services, dental insurance verification, collections and other billing, and even special projects like chart auditing. If you would like to learn other ways that we can save your practice money, you can receive a free support analysis by contacting us through our website or calling 330-639-1333.