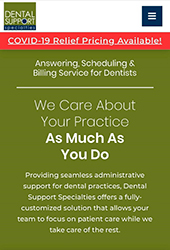 What are some of the front desk and scheduling precautions you will be taking in your office?

Here are some that we are seeing: (follow your state, county and health department guidelines)


Limited if any seating in the reception area and no family members allowed to wait (unless they are waiting in their car)
Having patients call or text your office from the parking lot upon arrival – Do as MUCH check in and check out as you can via the phone including treatment/financial consults, payments and scheduling. Have staff member fully protected with appropriate PPE meet patient at their car to take temperature and to ask health screening questions.
Keep office door locked – no walk in patients. Appointment only. Have a sign on your entrance displaying this.
COVID prescreening appointment calls. ASK the questions. DOCUMENT the answers.
Temperature taken before entering your practice and documented -this goes for team members AND patients
Disposable pen covers for any signatures required
No exchange of paper between team members and patients
Wear masks
Wipe all door knobs, counter tops, keyboards, mice, arms of chairs, everything in the reception area all day long
Remove magazines and any reading material from reception area, remove toys. The less things there are to touch, the better.
Water bottles for patients ONLYIf you touch it or see anyone else touch it, consider it contaminated and clean it down. Every time. Without exception.
No eating together in the breakroom (remember, wipe down the handles of the faucets, microwave and refrigerator, vending machine buttons etc)
Wipe off/down printer screens, phones after each use
Lysol after each restroom use whether from a patient or team member – door handles, toilet handles etc.
Patients to be separated by 6 feet at all times
Call patients to confirm appointments and to ask the prescreen questions. If any sign of illness is notated, reschedule the patient 30 days out.
Dental Support Specialties can assist you with your contacting patients for scheduling and the prescreening questions and all your administrative support needs during this time of reopening and stabilization.
Believe it or not we are still scheduling new patients and securely taking patient payments as well!
In our efforts to give back and be part of a group solution, Dental Support Specialties implemented COVID relief pricing for our clients on March 17th and will continue through at least the second week of May.

If you need support with:
Phones/Scheduling
Insurance Aging recovery
Insurance postings
Verifications (will be so crucial upon reopening!)
Insurance submissions and Statement/Billing/AR
Scheduling of hygiene and treatment
Please give us a call at 330-639-1333 or schedule a call at your convenience at https://meetings.hubspot.com/supportteam2