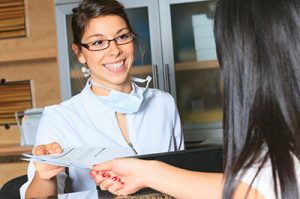 1) You have less than stellar, grand, charming, warm, friendly, charismatic, smiling, energetic, enthusiastic, go-getting, appreciative, gracious and aware front desk representation.  I called an office in New York a few weeks back to be greeted with a cold, clipped, nasty "Dental Office". Really, that is all the lady said. If you have someone without at least some of these qualities being the face/representative of your practice, answering your phones and greeting your patients this might be clue #1 on the empty chair syndrome.  Lets face it, all of your team needs to step up in this area because it is the ONLY thing that separates you from the practice down the street. Your customer service. Do patients feel better walking out of your practice than they did walking in? Do they hang up after calling with a smile? These things MATTER!
2) Lack of follow-up.  LACK. OF. FOLLOW-UP. Patient called to cancel and couldn't reschedule right now? Is someone marking the calendar to make a connection with this patient within two weeks? Patient doesn't schedule for recommended treatment prior to leaving because they need to check with their wife, check their calendar or whatever other excuse they might have? Who is following up or are you just waiting until they come back 'round in 6 months? Send a patient to a specialist and haven't heard anything since? Follow-up. Post-op calls anyone? How about a nice, caring "how you doin'?" call at the end of the day for any patient who has had anesthetic or any other invasive procedure? Or even to a new patient who has extremely high fear? What are you doing to follow up? The Fortune is in the Follow-up. (read my blog on this one!)
3) Ineffective, unused or inconsistent systems.  Do you fly by the seat of your pants every day hoping on a wing and a prayer that somehow, someway you might eek out your goal today? Or do you PLAN for your success by using the systems within each department to ensure the concentrated effort of working in unison towards the same common goal. When you have strategic systems that are used consistently, it allows for the whole team to focus on patient care and delivering the WOW to each and every patient without ever having to miss a beat. This includes having an effective recare system (Please pull your past due recare report today!!), effective undone treatment system, new patient system, clinical systems and hygiene systems. Confirmations are another big one. Solid confirmations systems, although will never ever eliminate no shows or late cancels, will drastically reduce and allow your team ample time to fill last minute holes. Knowing your monthly monitors to ensure you are aware of challenging areas and what needs immediate attention. If you don't know the status of your past due recare report, insurance aging, monthly new patient stats, avg hyg production, YOUR avg hourly production, % of open chair time etc., how the heck do you know where you would like to be?? Job Descriptions, clearly defined expectations and job ownership required – all with a great attitude.
4) Poor New Patient Experience  – If the new patient experience is less than stellar, not only are the patients probably not going to come back but won't be referring friends or family to you either. The new patient experience starts with that first phone call (in which the customer service provided should be UNMATCHED)  – It then continues to the delivery of the new patient packet, the initial welcoming into the office, the pass off from clerical to clinical, the actual treatment chair visit, (does everyone in your office take a quick moment to introduce themselves and welcome the new patient?) back to the clinical to clerical hand off, then the exit and first visit follow-up (thank you anyone??). It goes full circle, is extremely involved and should never, ever be compromised.
5) Lack of team cohesion – If your team has a fracture in it, well, guess what? That is reflected to the patient whether you think so or not. The goal of each patient visit should be to have the patient feeling better when they leave than they did upon arrival. Team friction, somebody is having a bad day – that is all reflected and is FELT. The team that works together, stays together and SUCCEEDS together. The team that is working towards the same common goal is FELT. The team that is fractured with a few "I's", well, not so much. Successful teams not only work well together, they have FUN!
6) Lack of financial options/Not knowing patients benefits – Care credit, pre-pay courtesy's, automatic debits, etc. Quality Dental Plan is another great option for patients without dental insurance. (I've seen some practices average 50+ new patients a month on this program.  The practices who have this success are the ones who have SUPERB front line representation who are super excited and motivated to be able to offer this great program!!) If you are a provider for any dental insurance, your patients expect you to know their benefits. Knowing their benefits and limitations is a valuable tool for you to use in your treatment planning. protecting your production and customer service delivery!
7) Lack of TLC – That is all anyone in life wants to know is that they matter. On the phone, in person, in an email. Its all reflected and if you provide less than stellar TLC it will be reflected in your schedule.
8) Lack of community involvement – Get engaged. Get involved. BE the place that everyone goes to.
9) Lack of web presence . If you don't have a website you don't exist in over 80% of the households. How's that for scary? For all of you iPhone users out there – Go ahead and tell your SIRI right now you have a toothache. Where is she directing you to go? If you are sitting in your office and she directs you elsewhere there is a problem. Google the name of the city you are in then dentist. Where are you on this list?
10) Lack of Internal/External marketing. Keeping your name out there. Building relationships, enhancing connections at all times.Facebook checkins. Holiday themed cookies to celebrate. Refreshments. Office logo mugs for patients who have birthdays the week they are in. Do you invest in electronic communications software (demand force, smile reminder etc) and yet don't use it to communicate with your patients on a consistent basis? If so, what a waste of money. Use the resources and systems at your fingertips!!! And if you have a huge marketing budget, but don't answer your phones a full 45 hours a week, some of your marketing dollars are just flying out the window.
11) Not respecting patient time. Are you always running late? Scrambling? (systems please) Always rescheduling patient appointment times? Nothing screams your time means nothing to me than a practice who makes a habit of this. Don't expect them to respect you then.
12) You aren't available to connect with your patients or answer your phones 40 hours a week. Patients want to talk to a live person when they are calling – and expect to do so if they are calling during "normal" business hours. Nothing is more frustrating than calling on your lunch hour to schedule appointments for your family only to be told that the office is now on their lunch hour for 1 1/2 hours and to please call back. Say what?! THAT is NOT being aware of patient connections or needs.  If you are out of the office 1 or 2 days a week – yes, you might say, "Well our patients know we aren't in on those days". Might be true, but doesn't mean they don't WISH you were available and new patients calling usually DON'T know that (otherwise they wouldn't be calling!). Why cut off the opportunity that is continually flowing into your offices for 8-16 hours a week? 
There is nothing on this list that will cost you mad money. There is nothing on this list that you can't implement. We work with some offices daily who are ROCKING consistently and it's pretty much because they have a plan, systems, top notch team member who WANT to make a difference. They are thriving in this economy.
With all this being said, you must be aware. You must surround yourself with team members who not only own their position but are also aware. Excited. Motivated. Engage with your patients. Are you thinking about your golf game in the middle of a crown prep or actively engaged with your patients? Are you excited to get to the office on Monday morning to see what the week will bring? Are your team members motivated to make IT happen?
You have every opportunity at your fingertips. It takes a plan, some systems and consistent hard work. But for the most part, your chairs aren't empty because of the economy. Think about it.
Just do it.
This message brought to you by DSS – experienced, dedicated, passionate and motivated dental support specialist team who OWNS any schedule we touch.
Opportunity doesn't quit calling just because you're out of the office…
Let it call US!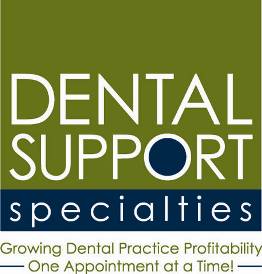 Replace your old, boring, non-productive answering service with a relationship building, result producing AWESOME service!