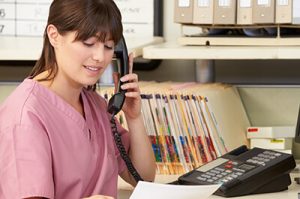 Websites. Electronic Communication Systems. Direct Mail Marketers. Radio Ads. Newspaper Ads. Social Media Support. Logo memorabilia. Special Events. In house marketing gimmicks and print material. Newsletters. Email blasts.

Marketing isn't cheap, right?  You spend thousands of your hard earned dollars on marketing, all aimed at driving patients and potential new patients to pick up their phone – call your office, choose YOUR office for their dental home, right? Saying "PICK ME! PICK ME!"
Yet most offices only provide phone availability to their patients an average of 26 hours a week. That equates to 56 normal business hours of opportunity that you miss out on each month. 56 hours!!! You say you are welcoming new patients, but not on Fridays or Wednesdays – you know, when you're out of the practice…. Or better yet, not during your lunch hours.  (Top 12 reasons your dental chair might be empty, and it's NOT the economy!)
Just what are you missing? Well, for starters let us say that you invest an average of $2,000 per month for the above marketing items. (kinda low, but we'll use this for general purpose) If you take that $2,000 and divide it by the normal business hours of 160 per month, that averages $12.50 cents per normal business hour that you spend on marketing. Now, if you multiply that by the 56 hours of unanswered phones and missed opportunity, you are basically throwing away $700 per month in marketing dollars. I mean, why not just drive down the road and throw that $700 out your window? Please keep in mind that we know this $700 is a LOW figure of deficit because it does not include the production loss by not being available to schedule new patients, existing patients who are ready to schedule or intercept cancellations.
Nothing is more frustrating for a new patient, or even an existing patient, than when they finally pick up that phone to schedule an appointment and they get a) an answering machine or b) no answer at all – Yes there are still offices out there whose phone just rings and rings on off hours. Scheduling is based on emotion – if you aren't available when the emotion is hot you risk missing out on BIG opportunities.
Think about your own experience in trying to reach someone when you're emotion is hot. You get a voice mail. You sigh – you think to yourself "Really? I finally decided to get this over with and I get a voice mail". How about if you call during YOUR lunch hour only to get a voice mail that tells you that whomever your calling is out on THEIR lunch hour? Or you call to get a voice mail on a Friday afternoon that tells you they'll start taking your calls on Tuesday morning with no option to leave a voice mail? OMG right??!!! Come on, its happened to all of us and there is nothing more frustrating, or that screams "We care about YOU when its convenient for US". I am NOT saying you don't deserve a lunch – either stagger those lunch hours or let a qualified, experienced support system serve you. (www.DentalSupportSpecialties.com)
How many times have you walked in on a Monday morning to a voice mail full of cancellations, reschedules, emergency requests because there was no one answering your phones on Friday? Now your administrative team needs to scramble to adjust the schedule, try to fill the holes in a panic mode, you're paying a hygienist for 3 open holes and its only 10:00 am and you all can't wait for the day to be over already…
(Or better yet – how about leaving your entire schedule and practice in the hands of voice mail while you are out on vacation?? 40 or 80 hours of unmanned opportunity. YIKES!!)
How wonderful would it feel to go in on a Monday to a controlled schedule? No messages for your administrative team to return, the schedule is confirmed, a few holes have been filled, opportunity has been pointed out, insurance verified and now you can focus on treatment opportunity for the day?All because you have phone availability to your patients 40 hours a week.
As you can see, maximizing these currently uncovered 56 hours a month of opportunity will positively effect many things – Higher production, better patient connections, cancellation interceptions, more opportunity to welcome/schedule new patients, increase follow up success and decrease stress.
Maximize your opportunities and your marketing dollars by answering your phone (and doing it WELL!)
Opportunity doesn't quit calling when you're out of the practice…
Let it call US!